From around 5 December every year, people in Austria dress up in animal skins and wooden masks with massive horns, parade down the streets, and whip bystanders in a wonderful event called Krampuslauf. This wasn't quite what people expect in postcard-perfect, snow-dusted, glowing Salzburg.
This tradition is widespread across Central Europe and beyond: its roars are heard in Hungary, the Czech Republic, Croatia, the Alsace region of France and Southern Germany. Krampus are said to be the companions of St Nicholas: confusing Christian and pagan traditions together in a way that seems common across many festivals. There is a mist over the origin of the tradition. Every hamlet and village seems to have its own tradition, with some figures appearing in one Krampuslauf and others not. Strawmen, witches, antlered monsters and angels variously appear. There is also a similar tradition is some areas (like Tyrol) in early January called Perchtenlauf.
6 December is the Feast of St Nicholas when gifts were given to children across Europe. By the 17th century, Krampus had been incorporated into Christian winter celebrations by pairing Krampus with St Nicholas. The night of 5 December, the Krampus arrive with incredibly detailed, lifelike wooden masks. The carving of these masks is a skill and one that is highly honoured. However, in recent times, the masks have stepped beyond their traditional forms and have begun to show Hollywood-inspired horror features complete with LED flashing red eyes. They carry whips (some carry birchwood rods which may come from pagan initiation rites) and they have a large bell on their back. To find a Krampuslauf, all you have to do is follow that clanging sound.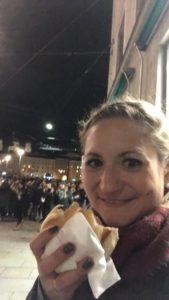 It is said that only unmarried males can be Krampus- but this isn't always followed. It is also said that if a female is hit, she will become fertile. If she then walks over the fields, the fields will have a good crop. There are special children's Krampus where the children can dress up and have a go at frightening and whipping people for fun. Contrasting this, there is also a Krampus hotline: parents can call and request a visit from a Krampus to scare unruly children back to obedience. This seems like a recipe for childhood trauma and there has been some discussions about the impact of the festival on children. But, as exemplified from fairy tales like the Brother Grimm, there is a strong idea of fear being attractive in some way. The Krampuslauf certainly illustrates this every year. Get out there, grab yourself a leberkäsesemmel and start chasing demons.